Eagle Lady Jean Keene Alaska Eagles Bald Eagle Feeding Book Homer Spit Kenai Peninsula



As heard on Rush Limbaugh and
seen in Reader's Digest...

Illustrated biography of Jean Keene, The Eagle Lady
"Click" on the BOOK Cover for a Preview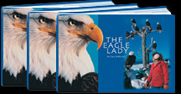 Published by



P.O. Box 241392 Anchorage, AK 99524
All Content ©2001-2013 Cary Anderson.