BOOK PREVIEW:

Best known as the "Eagle Lady," Jean Keene (1923-2009) fed a gathering
of eagles at the Homer Spit Campground every winter morning for over 30 years. What started out
as just 2 eagles eventually became 200 to 300 of the magnificent birds.

Her daily congregation of eagles was hard to believe, but well documented.
Author Cary Anderson illustrates Keene's fascinating life among the eagles and
recounts her earlier, little-known days as a rodeo daredevil.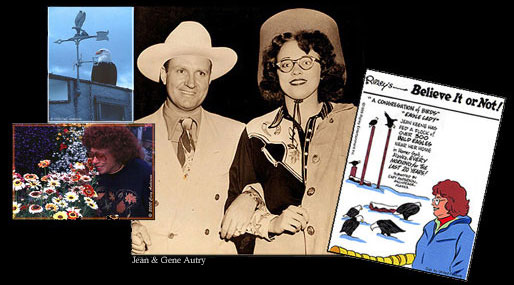 Book includes dramatic Alaska scenery, including the
aurora borealis (northern lights) and wildlife.

Richly Illustrated Throughout !
Full Color, 72 Pages / HARDBOUND




Published by


Cary Anderson, Eagle Eye Pictures
P.O. Box 241392, Anchorage, AK 99524
Phone: (907) 441-9692
All Content ©2001-2013 Cary Anderson